If you have been planning to throw the first post-vax summer party, then you surely need to put in some extra effort to make sure it is super fun.
After all, it has been a long time since everyone had a good party due to the restrictions in place.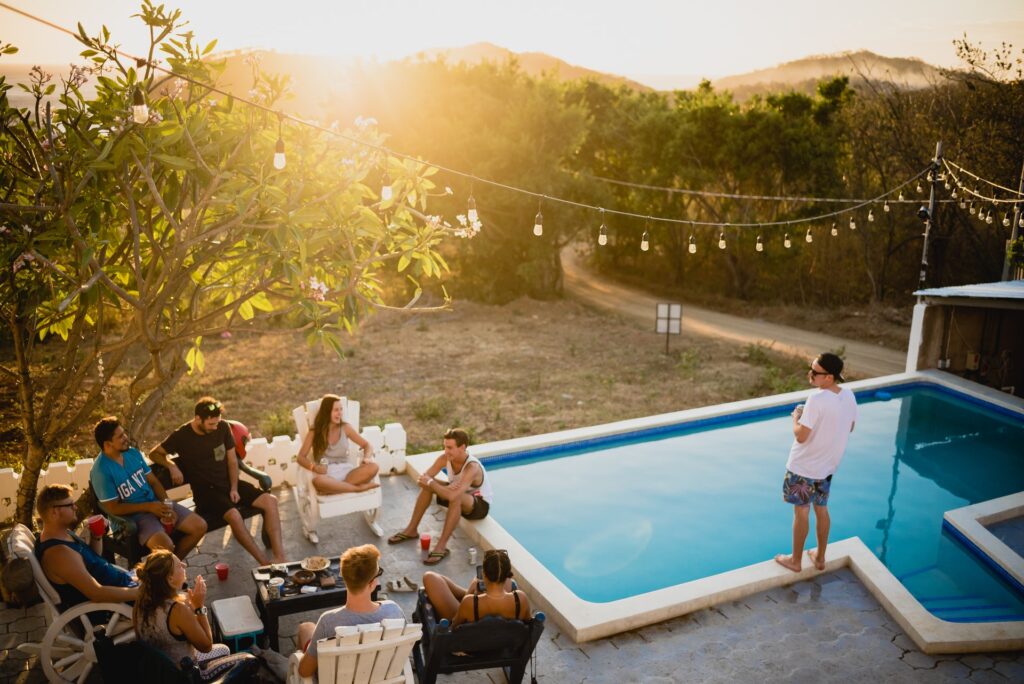 The past year has made many people realise the importance of family, friends, and hanging out with people who matter to them.
With this thought in mind, you too should start planning on how to welcome the summer with a party that is full of a renewed sense of joy, excitement, and a generous spirit.
Below are some tips to keep in mind so that you can host the ideal summer party at your house in 2021.
Set The Pre-Party Tone
It's not just the party itself but even the anticipation of waiting for the day to arrive, that can be exciting. The party excitement should start right from when your guests get the invite.
You can make e-invites online and let people know who all is coming. You can even try to let people know what all is planned for the day and what they can expect.
Adding a dress code will be another fun element that you can add to your party. This way the people will be excited and look forward to seeing others.
Give some time to your guest list before you send out the invites. This does not mean that you have to make a super-exclusive list but make sure you bring together a group of people who have good vibes.
If there are people who you dread seeing or they are just known for spoiling every party, then keep them off your guest list. If you have some new people in your friends' circle or neighbourhood, then be generous with your invitation to them so that you can introduce them to other people and they can make new friends.
Get your friends to respond if they are coming or not so you can then plan the party properly.
Deal With The Location
Once your guest list is confirmed, it is time to prepare the location of the party. Do not leave this for the last minute as that can be quite hectic and you will be tired when the actual party starts.
According to the number of people, you can choose a spot in your house so that it can accommodate all the people comfortably.
Start cleaning the place up along with doing the best you can to make the whole house as spotless as possible. Put an appropriately sized garbage bin around the party location so that all trash can be put inside.
Keep extra toilet paper stuck in the toilers as well as soap, trash can, and other toiletries that your guest might need. Keep extra charging points for mobile phones ready. Add directions signs for your guests so they can get around easily.
If you are planning to decorate your house with a theme then keep it simple.
Food And Drinks Situation
The main life of the party is always the food, drinks, and music. Give enough thought to all of the three. You can get matching cutlery, glasses, and plates for your guests from a party shop. If you plan to have food then look for recipes that are easy to eat and can be cooked in advance.
A BBQ or burger station is always a good idea and can satisfy the palate of all your guests. You can add crisps with different types of dips as starters. Other food items that go great at a summer party are jars of pickles, ice cream, and pizza.
When it comes to drinks, getting Portable Ice Makers will be a great idea to beat the summer heat. The drinks can be served cold at all times without having to refrigerate them. Keep options of both alcoholic and non-alcoholic drinks.
You can make a nice punch in a big bowl so everyone can serve themselves. As for the music, create a playlist with the best mixes beforehand.
Ensure A Good Party Vibe
In a perfect world, you would like everything to go as per the plan for the party. However, in the real world chances of that happening are mostly slim.
Be prepared to make changes here and there to ensure that the vibe of the party remains positive and good. If you are throwing a daytime party, keep loads of options ready for your guests like a paddleball set, board games, or nice movies.
As the host of the party, you can set the vibe as soon as the guests come in. Be generous with your compliments and so that everyone can feel at home quickly. Introduce people to each other and give them time to get to know one another.
Take a lot of pictures so that people can join in and make some nice memories.
Don't be overly fussy or get upset about anything when the party is on. Your mood will actually play a big part in setting the tone of the party. If you are happy and positive, it will reflect on your guests.
Do not be controlling and try to run the party how you want it to be. Be relaxed and generous. Have fun and let your guests have some fun too.
A good party can make many memories for years to come. A good host too will be remembered for a long time. Once the party is over successfully and you have cleaned up everything, send thank you notes to everyone who came.
You can even add a link to the photo album for everyone to see. Show your gratitude to people and let them know what a good time you had.
This will make sure that people look forward to your next party because they know that you will be a great host and they are sure to have loads of fun.