Smaller kitchens can often look cramped, dark, and busy due to everything being in one space.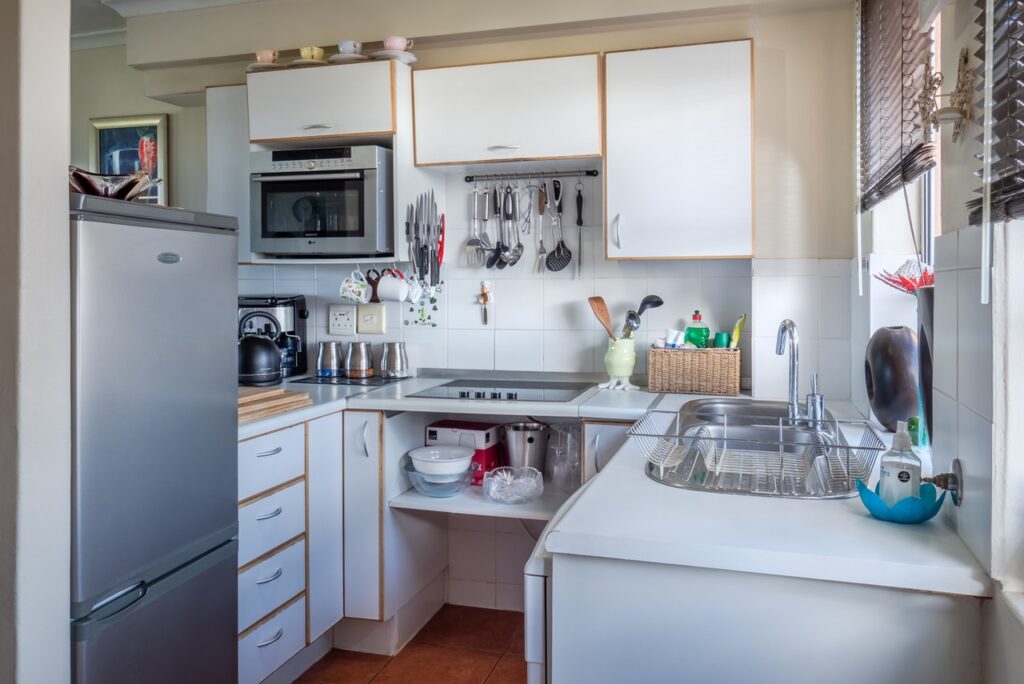 Here's how to brighten up your kitchen and make the most of what space you have by turning it into a modern space for all of the family to enjoy.
Introduce natural light
Where possible, encourage natural light into your kitchen. Avoid covering windows with blinds, nets, and curtains to fully maximise the amount of sunlight that can make its way into the room and try to compliment this with things like mirrors and glass objects that will reflect and disperse light throughout the space.
Add bright colours
Light kitchens can be achieved with the help of bright neutral colours such as whites and light greys, with a pop of something different to break up the walls and add dimension, such as yellows and greens.
You can also incorporate light and colour into your kitchen by painting the cupboards or replacing the surfaces with a sleek new bright countertop.
High gloss countertops such as granite, enamel or marble can also reflect sunlight, therefore brightening the space even more.
Store things away smartly
Try keeping everything that you don't use on a daily basis away in a cupboard or drawer. Having less clutter and appliances filling up your kitchen will give the illusion of a larger space and will also allow your new gloss countertops to really fulfil their purpose.
Make the most of your kitchen if it has high ceilings and utilise this space by installing fitted cabinets or additional cupboards so that you can store everything away in a safe and tidy manner.
When buying your cabinets, consider glass doors instead of wooden ones as this will also help to reflect light and open the space up more.
Try investing in pots and pans that you can stack inside of one another to easily store away and save space with. You can also do this with other things such as Tupperware and bowls so that they aren't taking up as much room in your cupboards or on your shelves.
Use lighting 
Your lighting can be as simple or as elegant as you desire.
Try making a feature from it by using pendant lighting above your dining table or kitchen island, or alternatively you can add in spotlights around the skirting boards and under cupboards to highlight key features and brighten up your kitchen.
This is great for kitchens that aren't south facing and don't get much light during the day.
Be sure to choose lighting that compliments your kitchen's theme and style so that it fits in beautifully and works well with the space.
Lighting doesn't work well can also give the illusion of the kitchen being too busy and draw attention to all the wrong areas.