Swindon Orbital invited Swindon schoolchildren to a literacy-themed event designed to inspire them to develop a love of reading.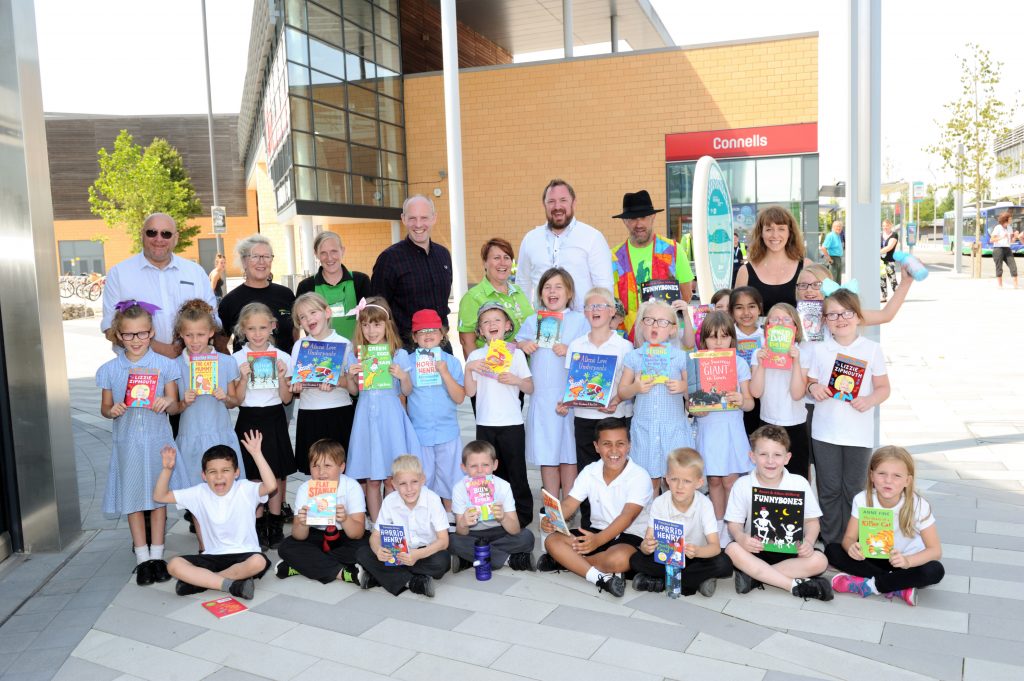 Children from Oliver Tomkins C of E Infant and Junior School and Hazelwood Academy were treated to a storytelling session and fun, educational activities with staff from ASDA and Homebase. The schools were also given £100 of vouchers to purchase new books for their libraries.
The event was part of the Young Readers Programme, an initiative delivered by the National Literacy Trust in partnership with Orbital and owner, British Land. The programme motivates children under the age of 11 to read for enjoyment, outside of the classroom. Children are taught how to choose books they will enjoy and are then given the chance to choose three books to take home for free.
Julie Warburton, Deputy Head Teacher at Oliver Tomkins Church of England Infant and Junior School, said: "The Young Readers Programme is a great way to help inspire children to read for fun, which in turn helps them to develop life-long skills.
"The classes thoroughly enjoyed choosing their books and I'm looking forward to seeing the positive influence the programme has on their attitude towards reading when we get back in the classrooms."
Last year, 1 in 3 children (33%) in Swindon left primary school unable to read at the level expected for their age. New research from the National Literacy Trust shows that the longer children can keep an enjoyment of reading going, the greater the benefits are for them in the classroom. For instance, 10-year-olds who enjoy reading have a reading age 1.3 years higher than their peers who don't enjoy reading, rising to 2.1 years for 12-year-olds.
Jamie Turner, Centre Manager at Orbital, said: "Supporting the local community is something we're passionate about. It was fantastic to see our staff and retailers get involved in the storytelling event, helping to get the children really excited about reading and discovering new books."
Jonathan Douglas, Director of the National Literacy Trust, said: "We know that reading for pleasure is one of the most effective ways to help children reach their full potential. With the support of British Land and its shopping centres and retailers across the UK, our Young Readers Programme has helped more than 19,000 children choose books they can enjoy and keep.
"Literacy underpins the long-term well-being and prosperity of every community, so encouraging children to read for fun is an important step towards boosting literacy levels in Swindon. We're thrilled to be bringing the programme to Orbital for the first time."
Justin Tomlinson, MP for North Swindon, said: "I was happy that my MP's office could play a part in the fantastic Young Readers Programme which was organised by Orbital and the National Literacy Trust. It was an engaging event aimed to encourage reading and emphasise how much fun it can be.
"As the summer holidays are just around the corner it is important to make sure that youngsters enjoy reading outside of school. This is why I also recently launched the national summer reading challenge in Parliament and invited the library along to my activities fair last week to try and sign as many kids up as possible."